The anti-worker forces that are trying to break our union just got a big break from the United States Supreme Court.

This morning, the court agreed to hear the case Friedrichs v. California Teachers Association during its next term.

Make no mistake: This case is not about individual liberty or the First Amendment. It is an outright attack against unions to prevent us from representing our members and using our voices to fight for our families, our schools, our colleges, our healthcare facilities and our communities.

We're preparing a national campaign to mobilize our members and communities across the country to fight for an America where everyone's voice matters. Sign up to join when we launch later this summer.

This case would undermine our unions and challenge nearly 40 years of precedent—and the court agreed to hear it barely a year after it dealt a blow to workers with its decision in Harris v. Quinn. In fact, the conservative justices on the court used the Harris v.Quinn ruling to invite cases like this one, showing just how political they really are.

Friedrichs is being argued by the same law firm that tried to destroy the Affordable Care Act, and it is fueled by the same ideological forces whose lobbyists talk about driving a "fatal spear through the heart" of our unions.

In the end, this case comes down to a fundamental question: Do unions have a right to collect a fair share from the people we represent, to ensure that we're able to speak for all workers?

The attack on labor by those who don't want working families to have a voice has intensified. It has moved from the statehouse to the courthouse. But our affiliates understand that engaging our communities and our members, and organizing new members, are the key to repelling those attacks and growing a strong middle class.

I'm proud that, at times like these, the AFT is still growing. We passed the 1.6 million mark last summer, and that number continues to rise through the efforts of local affiliates like the Washington Teachers' Union, which has worked to change the hearts and minds of 1,500 fair-share payers so they will become full members; efforts of workers like those in the Alaska Nurses Association, who voted to affiliate with us; and efforts of state affiliates like the Illinois Federation of Teachers, which added units from tenure-track faculty to court reporters to its ranks, and like AFT Michigan, which has held strong despite the so-called right-to-work law in place there. Educators at charter schools have voted to join our union this year, as have educators in states without collective bargaining, like Louisiana and Texas. This much is clear: Workers across the country want a collective voice on the job. 

While anti-union politicians like Wisconsin Gov. Scott Walker try to silence workers, we're preparing a unionwide, nationwide conversation to engage all 1.6 million AFT members on the challenges they face at work, their aspirations, and how together we can fight the obstacles and reach those aspirations.

Commit to joining our campaign to take back our power and fight forward, when we launch later this summer.

As these attacks keep coming, we'll keep organizing—because workers' organizing and collective bargaining rights are the way we can rebuild the middle class, create opportunity and bridge income inequality in this country.

I hope you'll commit to take action with us.

In unity,
Randi Weingarten
AFT President
Randi Weingarten, President
Lorretta Johnson, Secretary-Treasurer | Mary Cathryn Ricker, Executive Vice President
© American Federation of Teachers, AFL-CIO. All rights reserved.
Photographs and illustrations, as well as text, cannot be used without permission from the AFT.
Contact Us | 555 New Jersey Ave., N.W., Washington, DC 20001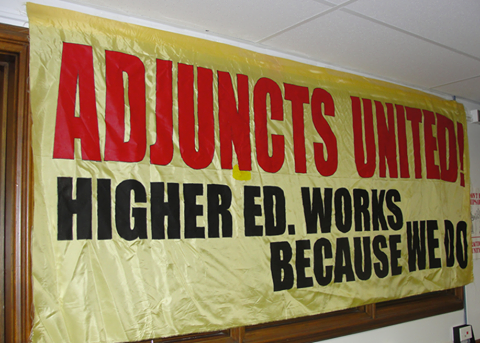 Feb 25 and 26 are National Adjunct Awareness Day!
Across the country, adjuncts are striking for recognition and better working conditions.  We are not striking – but we ARE raising awareness of the very significant contribution we make to UML.
Please participate Wednesday and Thursday. Wear your Blue Ribbon with Pride!
Wednesday and Thursday: Tell Your Students Who We Are:
572 Adjunct Faculty Members vs. 448 Tenure Track Faculty at UML
We are all members of the Adjunct Faculty Union
Nationally, 70% of all faculty are adjunct – the trend has been toward more adjuncts
Ask your Students:  if they can tell the difference between an adjunct and tenured professor, or if they know what the difference is
Explain Tenure:
Guaranteed job at the University
Difficult to get – long process, publication, committee approval
Good salaries and benefits
Voice in governance
Explain being Adjunct:
Technically, means "extra."
60-70% of faculty are adjunct – not "extra"
Many have PhD's
Many have interesting work experience/achievements outside of the university
Teaching is our main job at the University
Easier to get hired as adjunct
Little job security
No retirement or health care
Low pay
Unionized 3 years ago – many improvements since then
Allow some time for question and answer.
Hand out the Bookmarks!