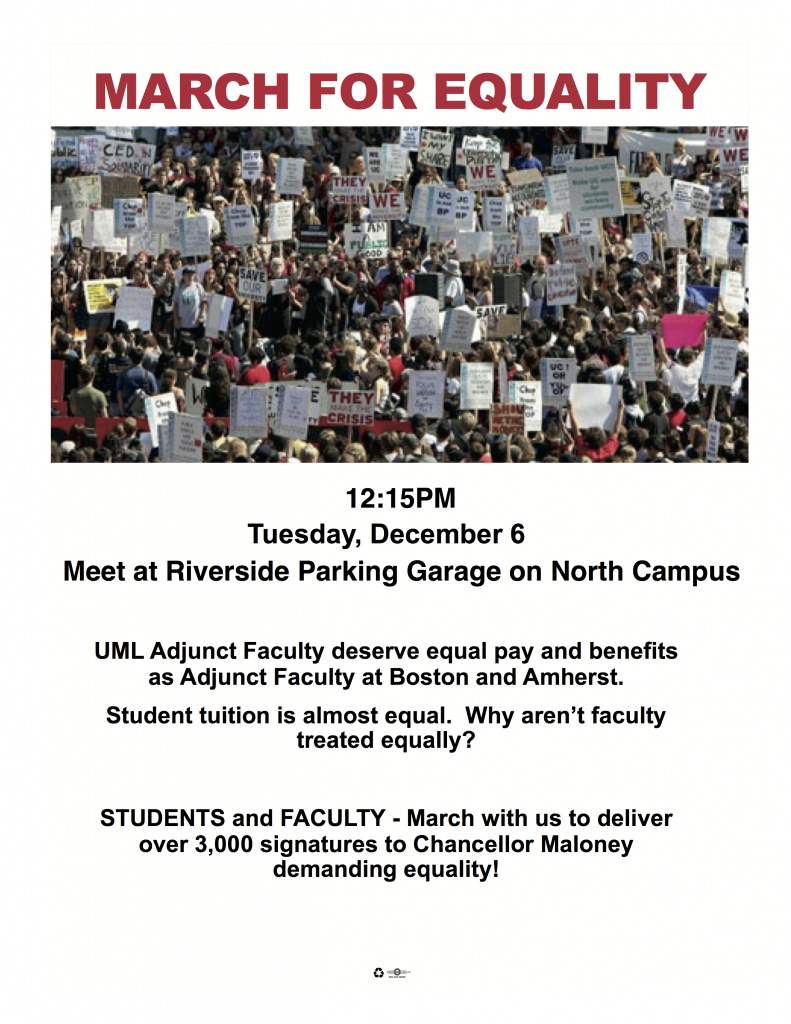 MARCH FOR EQUALITY
12:15PM
Tuesday, December 6
Meet at Riverside Parking Garage on North Campus
UML Adjunct Faculty deserve equal pay and benefits as Adjunct Faculty at Boston and Amherst.
Student tuition is almost equal. Why aren't faculty treated equally?
STUDENTS and FACULTY – March with us to deliver over 3,000 signatures to Chancellor Maloney demanding equality!
For Immediate Release:  Contact Tess George at  speakwell@comcast.net; 603-321-4220 (cell) 603-881-9130 (land)
Details:  March on UML Campus, Tuesday, Dec 6, 12:15, meeting at Riverside Parking Garage on North Campus and marching to University Crossing.
Students and Faculty March for Equality at UMass Lowell.
Adjunct faculty members at UMass Lowell are charging that the University does not offer equal pay for equal work.  A group of faculty and students wants to change that.
Faculty and students from Lowell, Boston and Amherst, along with supporters from other groups, will march across campus at noon on Tuesday to deliver over 3,000 signatures calling on Chancellor Jackie Moloney to treat faculty at all UMass campuses equally.
Adjunct Faculty at UMass Boston and Amherst are paid 18-34%  more than those at Lowell.  UMass Boston and Amherst adjunct faculty have health insurance and pensions, while UMass Lowell adjunct faculty do not.  However, tuition at Boston and Amherst is only slightly more than that paid by UMass Lowell students.
Tess George, Communication Director of the Adjunct Faculty Union said "This is about basic fairness for us and our students. It just doesn't make sense that we perform exactly the same work for the same employer and here in Lowell we're paid less and have no benefits.  It's even harder to understand because UMass Lowell students are paying only slightly less in tuition."
Adjunct faculty don't have tenure and frequently work part-time. Use of adjunct faculty has increased dramatically across the country in recent decades, and many adjunct faculty have unionized, calling for better pay and working conditions.  They charge that although they provide a critical service to students and universities, they are not treated as a part of the academic community or paid fairly for the work they do.
It's often difficult for students to know if faculty are tenured or adjunct.  But when they are informed, many are very supportive of their teachers.  Sara Backer, a published novelist, poet and adjunct faculty member said, "Students have been extremely supportive of our call for equality with the adjunct faculty at UMass Boston and Amherst. When they learn that their UMass Lowell teachers have no health insurance or job security, they are shocked."